DISCLAIMER Apteryx is a software that goes by many different names. Some examples are CliniView, Xray Vision, ProfSuni, and XVLite. All of these versions are compatible with the Clio sensor using the steps below.

The first thing you'll need to do is install the Clio sensor module for Apteryx. You can find this by going to the link below and then clicking Imaging Devices and then 'S' for SOTA Clio Sensor.
Clio Sensor Module for Apteryx
After downloading the file, you'll need to run it from any computer with Apteryx installed, preferably your server computer. To ensure the installation works properly, right-click the installer and choose 'Run as administrator' and be sure that Apteryx is not running anywhere in your office as you will be given an error that Apteryx is running somewhere or cannot be accessed. If you keep getting this error and can't seem to find where Apteryx is running, you may need to shut down all computers in your office besides the server. Should you run into any errors regarding a license expiration, you will need to call Apteryx support for further information. They can be reached at 877-278-3799.
After the Clio update has been installed. Run the SetupIntraOral USB driver, found on our resources page, on all workstations that are going to use the Clio sensor. You will need to choose either 32-bit or 64-bit depending on your operating system. If you are on Windows 10 there is a patch you should install after installing the driver (located on our resources page under the Clio driver).
Once the Apteryx module and Clio sensor driver are installed, open Aptyrex and go to options or tools, depending on which version you have. Next, select Sensor and choose the Clio module. You should now see the General tab.
Adjust the General settings to match below.
Next, go to the GBC tab and adjust to match the recommended settings below. Please note that these can be adjusted to your preference but we've found these to be the best starting point for most offices.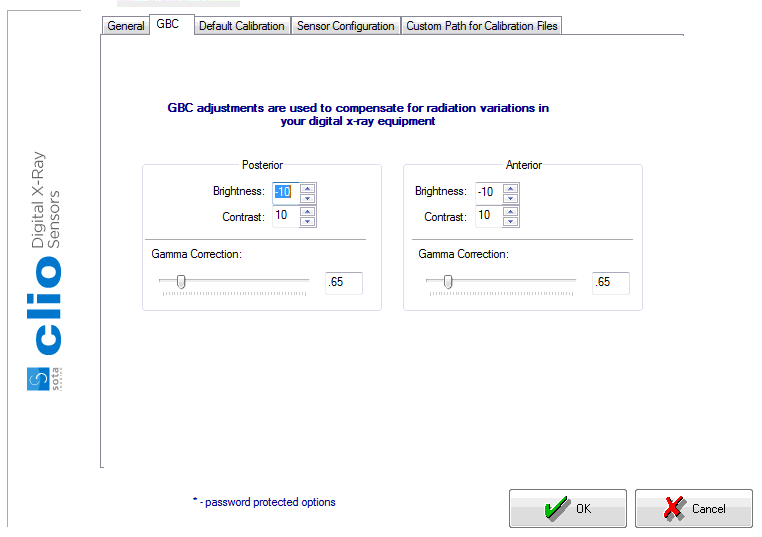 Go to the Sensor Configuration tab next and note the settings below. These are the recommended settings when using a wall mount x-ray tube. Should you have a portable tube, such as a Nomad, adjust the GAIN to 4.0, the Integration Time to 900 and the Triggering Level to 180.
Last is the Custom Path for Calibration Files tab. First, you'll need to locate the calibration file for your sensor. It is included on the USB drive that comes with every sensor. If you no longer have the USB drive, please contact SOTA Imaging technical support and we can provide you with the necessary files. You can reach us by phone at 714.532.6100 extension 2 or by email at support@sotaimaging.zendesk.com.
The calibration file will be in .RAW file format and needs to be changed to .CAL, as well as have SN added before the numbers.
Example: Change the file from 326201.RAW to SN326201.CAL.
Put this file somewhere accessible, we recommend in a shared folder on your server computer, and either type in the location or browse to it by clicking the ... button and choose the directory.
If you have any questions about any step of this process, we would love to assist you further. Again, you can reach us by phone at 714.532.6100 extension 2 or by email at support@sotaimaging.zendesk.com.